SaaS (Reselling) - what's that?
Selling neatComponents as a software service. As well as providing you with unparalleled website building capability and hosting for an unlimited number of sites, neatComponents also includes a full suite of tools to allow you to create your own template sites, sell them to end-users - bill them, and have neatComponents manage the collection of the funds and credit control. Really.
If you wanted information on becoming a nC Distributor - look here
The neatComponents system is designed to provide a revenue stream for resellers with the minimum of administration, and the maximum flexibility.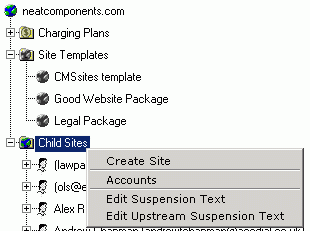 The key to reducing administrative burden is to permit - and actively encourage - clients to manage their own sign-up and account maintenance themselves.
To do this, we provide a suite of linked components. The 'Site Manager' provides you with an overall control centre. The 'Site Creator' allows clients to sign up from your own website, and the 'Account' component allows them to pay you online.
Together with the Log-on impersonation facility for support, you have a comprehensive suite of tools to enable you to maintain a profitable revenue stream with the minimum of effort.
To learn more about the neatComponents features that power reseller sites, click on the headings below:
---
Site Manager read more ...
The Site Manager provides a control centre where resellers can manage their client websites: create template sites, charging plans, review customer account balances, and see an overview of their business.
The Site Creator component allows a reseller's new clients to self-sign-up for a site, with the minimum of questions asked, and absolutely no interaction required by the reseller. The client is able to get started quickly with a reseller's template site, and can be given a free trial period before charging plans are applied to the account.

Client Accounts read more ...
Each client can be given their own Account, that shows invoices and payments for their site, together with any other charges the reseller needs to make. The account manages online payments, credit limits, and emails the client if they need to make payments. In extremis, it can even suspend their sites if they exceed their credit limit.


Template sites read more ...
A reseller can 'clone' a site to create a Template site, saving time on repeating development work, and enabling you to give your sites a consistent look or behavior.


Log-on impersonation read more ...
Distributors who need to log-on to their client reseller's customer's sites can log-on with their own credentials, and impersonate their client reseller, speeding up support calls, and without the need to ask for client passwords.