What is the 'neatComponents' and 'clearString' value proposition?
neatComponents is a robust, powerful, easy to use, comprehensive development platform for web based business applications that any business can use to build almost any business model in a fraction of the time and expense of conventional coding by a programmer.
How can neatComponents be less expensive than free software?
neatComponents reduces your biggest cost - labor. That's the cost of manual coding by a programmer.
neatComponents gives you the skills of an experienced coder - instantly.
The key to understanding the value proposition for neatComponents is that to reach the level of coding required for modern, secure business applications requires years of experience and a great degree of skill.
In order to have the capability to create secure business applications it requires in depth knowledge of Python, JavaScript, PHP, MySQL and more, plus years of experience to know how to craft secure, robust, maintainable code.
neatComponents encapsulates that knowledge into its components.
neatComponents gives you that capability without the cost.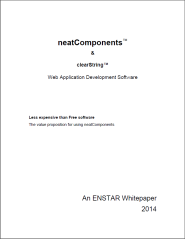 Free Whitepaper
Download a Free whitepaper that explains the value proposition for neatComponents in detail:
1 - The Philosophy of neatComponents
2 - Business - Small, Medium and Enterprise
3 - Commercial Web Design Studio
4 - Business Consultant
5 - Understanding Free vs Commercial software solutions