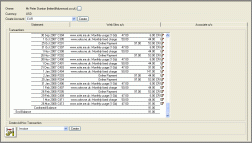 For resellers, the bottom line is revenue, but in the world of web design, where creativity comes first, the mundane issues of log file analysis and usage based billing are a tedious chore. Chasing customers for payment is a thankless task, and turning someone's site off for non-payment can be seen as a personal affront.
The neatComponents Account system manages all these tasks, gives your clients an interface where they can manage their payments, and takes the personal pain out of the task of asking, and chasing, for payment.
Read more about Managing Sites for Clients here ...