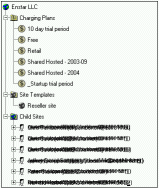 If you are managing numerous websites, keeping track of them becomes a very real issue, particularly if they are being managed for clients, and you need to make sure they are charged correctly for their usage.
The neatComponents Site Manager component combines the control over domain names found in IIS with a sophisticated charging and financial accounting system to ensure that clients are billed correctly for their usage (based on whatever charging plan you need) . Just as importantly, it ensures they pay those charges, by reminding them by email, and, if they don't pay, enforcing your credit limits and as an ultimate sanction shutting the sites down.
Even if you aren't billing others for the sites, the sitemanager has some important uses - making it simple to duplicate entire sites, and makes sites into 'templates' for future reuse.
The sitemanager interfaces with the Site Creator component to allow users to self-sign up for a site based on one of your templates. The site creator component even allows a charging plan to be automatically assigned, so you can create a truly zero-administration revenue stream.
To learn more, see the Site Creator page in the Components section.