neatComponents provides a fully flexible environment for building ecommerce or shopping cart systems integrated into your website.
This is not a simple 'template' system. Instead, you retain full control over the cart design and operation, with fully customizable fields, texts and prompts. Data is stored in the standard neatComponents data model of Forms, Queries and Views, where you have complete flexibility over the field structure and appearance.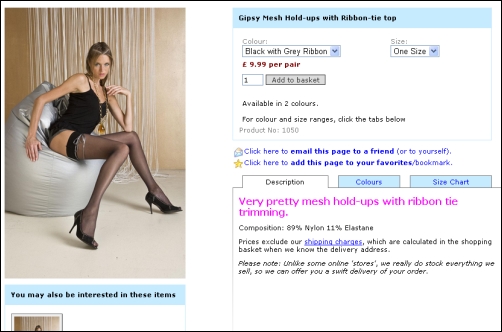 An example neatComponents ecommerce system. Note the color and size options,
the tabbed paging for further information, 'email this page to a friend' links
and panel linking to related items.
The documentation for the neatComponents ecommerce functionality is split into the following sections:
Principles
In this section we discuss the principles behind the ecommerce system - how it integrates into the core neatComponents system, and how you can mould it to work the way your business needs. It includes discussion of topics including stock control, associate systems, tax and shipping charges and bundling products. Read more...
Example site - Basic configuration
In this section we explain how to create a simple e-commerce system from scratch (we also include it as a download so you can use it as a starting point). Once you have this working, you can add on extra functions to customise it to your particular needs. Read more...
See also - tax and shipping charges
See also - stock control
See also - associate system