The Layout Manager controls the website's structure. It has two main tasks.
Pages-tab Control: enables the designer to add, delete, move and rename secure pages, sections and other components in the website.

Layout-tab Control: enables the designer to control Navigation, and other Layout Elements.
In understanding how the Layout Manager works it is important to see how the Layout Elements interact with the pages on the website.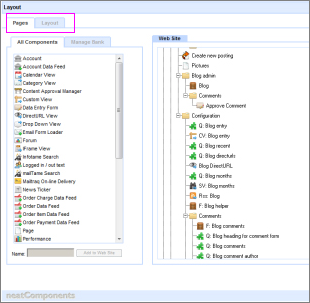 At its most simple a website is a series of 'pages'. These pages are linked together and are ordered in to a hierarchy.
The Pages-tab allows you to add a component from the Component to the Web Site. When you add a component to the site there is an associated position in the site. This particular component is either above or below another component.
There can be complex, branching relationships in a tree of positions, but every component has a position associated with it.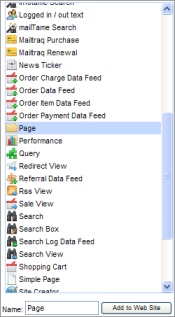 The act of moving the 'page' from All Components into the 'Web Site' places the page in relation to all the other pages. The System is aware of the relationship between the pages of the site, and this 'awareness' is made available to the website designer as Navigation.
Layout-tab
The Layout Control manages the Layout Elements that 'surround' the webpages in the website. Each webpage - in fact, each Component - has Layout Elements associated with it. They are positioned above, below, to the left and to the right of the page, and there is no limit to how many Layout Elements there may be for any particular page.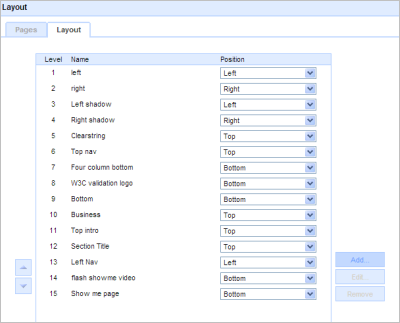 The Behavior Editor for each page controls whether or not a Layout Element is used on a section-by-section, or page-by-page basis.
Important of Order (Sequence)

Layout Elements have a relationship with each other depending on their order or sequence. There can be multiple layout elements per page. The Level Order in the Layout Manager - Layout-tab determines the area each layout element covers.
Important:
Each Layout Element 'cuts into' the space remaining as shown in the illustration above.
Layout Elements are applied to the website in their order in the Layout Manager. Layout Elements have a number of attributes they can possess, which are managed using the Layout Edit control. Layout Elements can be: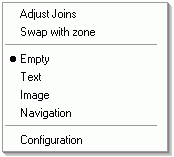 Empty
Contain Text
Contain an Image
Contain Navigation