The recipients of Table Action Event emails can be set in a number of ways.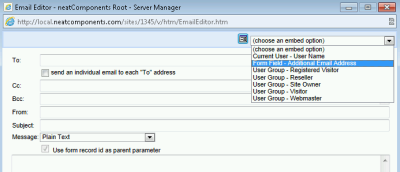 Specified Recipient
The email is sent to a specific (written-in) email address, for example - support@enstar.net or registration@example.com
Form Field
The email is sent to an email address drawn from an email-type field in the Table, by setting the insertion point in the To: field in the email form above, then selecting the appropriate embed option from the drop-down Embed list as shown above.
Current User
The email is sent to the current logged in user.
User Group
The email is sent to all members of the selected user group.
This is of particular use when you are working with custom User Groups in Workflow scenarios.
Read more about creating Workflow applications here...
Example
See an example of creating a Form Event email at: A First Site here...