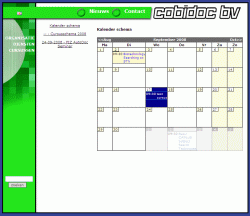 The Event Calendar is a configurable, but pre-formed, view that makes it very easy to provide an event calendar that can be used for scheduling meetings, events, vacations, room occupancy, or any other event. The calendar can be for public access or for restricted sharing on your Intranet or Extranet. There can be an unlimited number of Event Calendars on a site.
Like all neatComponents components insertion on the website is a simple click.
The Event Calendar displays the result of information posted to the site via form. This data is then passed through a query to order the entries as the designer requires.
The Event Calendar itself then renders the display from the infomation selected. Updates to the Event Calendar can be published live, or subjected to a moderation loop.
The display itself allows the designer to control how the calendar flows, when the day of the week starts, which time zone and so forth - all via an easy to use console.