The Behavior Editor, accessed via the Toolbox on each page, provides a set of properties specific to that page.
There are three types of entry in the Behavior Editor:
Styles
Settings
Permissions
All of the values in the Behavior Editor are inheritable. This means that the settings that affect a page may have been set on that page's Behavior Editor, or if not set there, may have been inherited from higher up the site tree. This concept of inheritance is simple, but extremely powerful, as it underlies the ability of the system to provide a consist site appearance, as settings can be made centrally at the top of the site tree, affecting pages throughout the site. This, combined with the ability to override the inherited settings on a page-by-page and setting-by-setting basis, give extremely fine control without a massive overhead.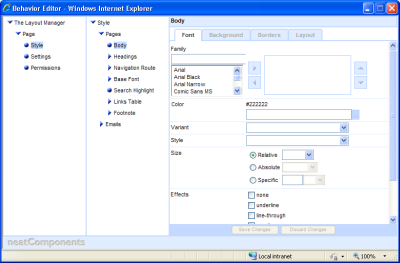 Settings and Permissions
The controls available in Settings vary from component to component and site to site, and control everything from Head Tags to XML Site Maps through enabling Google Analytics, keywords and managing Content Approval. Permissions tightly control access, usergroup by usergroup.